Musical theatre fans of Les Misérables beware! The film you are about to see will resemble the famous musical in score only. To be sure, the text will be quite familiar and the song lyrics pretty much the same; but the epic narrative, based on Victor Hugo's ground breaking novel of the same name, will resonate and quake with a power quite unlike anything you've witnessed on the stage. For Les Misérables the film lets you experience Hugo's story of suffering and redemption not as a sung-through musical but as an epic drama that is acted first and sung second. You may leave the movie house preferring this or that version of this or that song, but I guarantee that you will leave having experienced Les Misérables in a totally different way. And if you experience the film as I did, you will feel emotionally spent and longing for more spiritual tales of ethical courage in the face of human failing and resolve.
The unique power of Les Misérables springs directly from the directing prowess of Tom Hooper, whose direction of The King's Speech further proved his ability to summon forth superb performances from his actors. The ensemble work in Les Misérables is nothing short of remarkable, as Hooper gives each actor the space to embody his or her part fully, even though the show's thoroughly musical style would seem to dictate a different approach. A result of this stylistic decision is that the story is never interrupted by a song or even enhanced by a song. Rather, the actors embody the story through the dynamics of their songs. For musical purists, this choice might prove difficult to bear, as all the songs lose that "show stopper" quality. Instead, they become simply melodic vehicles through which Hugo's larger, more enduring tale is told.
an incredible accomplishment
At the center of the film and the musical is Jean Valjean, a poor 19th century French laborer who steals a loaf of bread to feed his sister's child, and who must then spend the next 19 years of his life in prison. Upon his release, he is condemned to bear the mark of a violent man until his death. Overcome by his contempt for society, he steals again, only to once again face prison. Hugh Jackman of Wolverine fame plays Valjean with great intensity, not only capturing the protagonist's spiritual journey but also the full spectrum of his emotional changes. Jackman brings the character's inner conflict into wonderful focus during the scene with the Bishop of Digne after he offers Valjean gold and silver in exchange for his promise to lead a good life. Valjean's rendition of "What Have I Done?" and "Who Am I?" bring this inner conflict into full focus. Then, after Valjean has long since left his hatred of society behind, we experience the character's resolve in "Bring Him Home." He will grant independence to his charge Cosette so that she can be with her young love Marius even though her independence will mean his own loneliness and loss.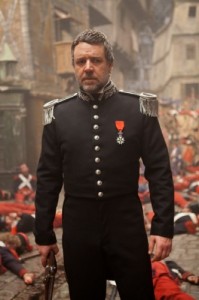 Oscar winner Russell Crowe plays Valjean's arch nemesis Javert. At times prison warden, at times law enforcement officer, Javert is Hugo's embodiment of the legal system. Crowe brings all his many talents to the role, not least of which is his ability to invoke empathy even in the cruelest of personas. He captures not only Javert's fierce determination but also—and most importantly—the character's spiritual unraveling. His rendition of "Javert's Suicide" though not as rich as stage Javerts might perform it, fills the screen with the character's turmoil and doubt, allowing the viewer to empathize with a man who has dedicated his life to his sense of duty to the law, only to now see that man crumble as the law fails and tragedy ensues.