After two years of offering a wide variety of poets and musicians at The Performing Knowledge Project's signature event, Performetry, Michael was at december's event.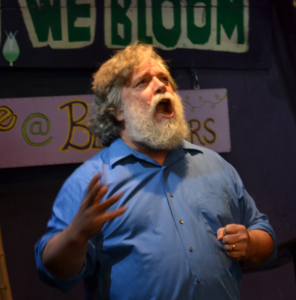 Michael, of course, co-produces the event with Elizabeth Bruce, the artistic partner and wife, and he has performed a wide variety of classic poems at the event, most recently Edgar Allen Poe's "Silence: a Fable".  Elizabeth was featured at Performetry earlier in the year.
Michael considered the chance to offer a 30-minute set of his poems a real honor, and a challenge.  "Doing single poems at open mics around town is one thing," Michael says, "but putting together a collection requires planning, and preparation."  Michael treated the opportunity in the same way he does his classical presentations.  He was off book and ready to rock and roll.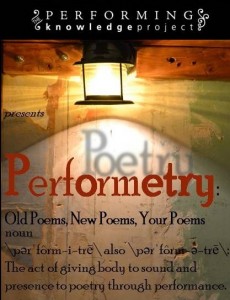 December's Performetry was on Sunday, the 28th, from 6:00 p.m. to 8:00 p.m.  There was an open mic and plenty of food.  Plus, using the theme "hopes for the New Year," we invited everyone to share their dreams.
Additionally, there was an early birthday celebration for Elizabeth.
BloomBars is at 3222 11th Street, NW, Washington, DC.  There is on-street parking.
BloomBars kindly asks for a $10 donation to help pay for their extensive community work.