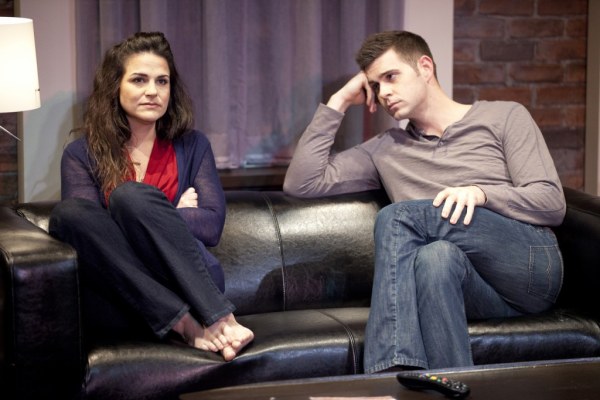 Good dramatic stories rely on more than interesting characters. They rely on more than crisp, provocative dialogue. They rely on more than inventive twists and reversals in direction and perception. Good dramatic stories rely on—rely most on—their ability to encourage an audience to care. Dying City, Signature Theatre's latest dramatic offering, unfortunately fails at that most important feature.
To be sure, this two-person psychoanalytic exploration of love and death by Christopher Shinn presents a challenge. Set in New York City in 2004, Kelly (Rachel Campelli) still mourns the death of her soldier husband, Craig (Thomas Keegan), when Craig's gay twin actor brother Peter (Thomas Keegan) knocks on her door one evening. What follows is a brutal, and frequently contradictory, examination of a strange love / hate triangle, with the Iraq War lurking in the background. Peter, it seems, wants to father a child with Kelly. Kelly, a therapist, wants more than anything to understand how she could have so misunderstood her husband and their relationship. Craig, it seems, had not been the man she married, but rather a misogynist in search of redemption. In the end, Kelly wants more than anything to disappear.
To read more click here.