"A poem should not mean
But be"  
Ars Poetica by Archibald MacLeish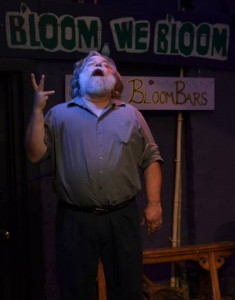 Robert Michael Oliver takes MacLeish's statement to the fullest, as he performs his poems and the poems of classic poets, such as William Butler Yeats, Samuel Coleridge, Edgar Allan Poe,  William Blake, and Walt Whitman.
Michael's first one-man interdisciplinary performance piece, Embodying Poe opened at the 2011 Capital Fringe Festival. In that piece he weaved seven of Edgar Allan Poe's most mystical poems together with a bio-historical narrative and seven demonic paintings. The show received rave reviews.
Then, at the 2014 Fringe Festival Michael opened the long awaited Song of Myself: the Whitman Project, a seventy-minute blockbuster with music, photographs, and film he played to full houses at Caos on F Street.
After reviving both shows in 2015, he opened Howl in the Time of Trump in 2017
Michael founded The Performing Knowledge Project in 2011 and is co-director along with artistic and life partner and wife Elizabeth Bruce.  Performing Knowledge runs writing and educational workshops, produces poetry-in-performance films (The Raven and Eureka),  and supports an active cultural life.