The first review is in and it's a Rave: click here.
To most Americans, Edgar Allan Poe is a writer of short stories: tales of horror and suspense. But to himself, Poe was a poet, the poet who walked within the realm of love, dreams, death, and a profound mystery. He was the idealist, tormented by "a chaos of deep passion," who first turned from poems to short stories and essays out of a need for daily bread.
Embodying Poe: Poetry in Performance strives to capture the tenure of that poet, not his character; the sensitivities of the Poe's poetic persona, not the habits of the editor Poe or the drunk Poe, or even the desperate lover Poe, though a little of each of those personas resonates in the poetic Self this performance brings to the stage.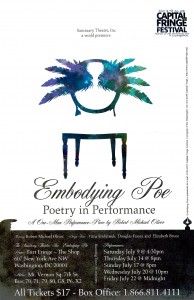 Embodying Poe opens on July 9 at 4:30 at Fort Fringe – The Shop, 607 New York Ave NW, Washington, DC and is presented as a part of the 2011 Capital Fringe Festival, a program of the Washington, DC non-profit Capital Fringe.
Tickets for the show are $17.  Tickets can be purchased at the Capital Fringe
Box-Office 1.866.811.4111 or online at capitalfringe.org.  The complete schedule
for Embodying Poe: Poetry in Performance is listed below.
For more on the show click here.
Saturday July 9, 2011 4:30 pm
Thursday July 14, 2011 8:00 pm
Sunday July 17, 2011 8:00 pm
Wednesday July 20, 2009 10:00 pm
Friday July 22, 2009 12 midnight