Poet in Performance
Poetry in Performance
"A poem should not mean
But be"
Ars Poetica by Archibald MacLeish
Hence, poetry Is not meant to be read or recited or declaimed. Poetry is meant to be, by the speaker who, through the act of embodying the poem, becomes the poem. Poetry should be.
Opening in Summer 2011, to rave reviews, was
Embodying Poe: Poetry in Performance.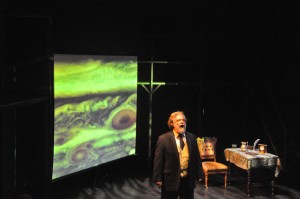 Although Poe is best known for his tales of horror and suspense, most of his writings deal with essential human struggles and have a deep philosophic and spiritual underpinning. His poems and his stories deal with people in the throes of loneliness, despair, and loss.  In this sense Poe, the Horror Writer, is trumped by Poe the Poet and Poe the Spiritual Adventurer.  Embodying Poe brings this Poe directly to his his audience, but not as a character in the theatrical sense, but as a Being in emotional conflict.  Oliver does not portray the character of Poe, but rather he assumes the psychological dispositions depicted in seven of Poe's poetic pieces.  The psycho-biographical text acts as connective tissue between the pieces and is textured and enhanced by original music and visuals.
In Spring 2013, he starred in The Raven, a short film of his work on that poem from Embodying Poe.  Wwith the Sanctuary Theatre's Performing Knowledge Project and a team of creative artists (Yitna Firdyiwek, Aashish Edadadampil, and Doug Fraser), the film is currently entered into several film festivals.
He and the team at the Performing Knowledge Project is currently developing an new Poetry-on-Film, Poe's Eureka.  For more on that film, click here.